download the Free ireland t.v/film GuidE: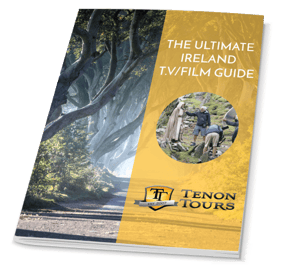 Have a favorite show based in Ireland? Want to see where your favorite movie was filmed in Ireland? Get your free guide and you will learn:
Fun and interesting facts about movies filmed in Ireland
Suggested Itineraries and maps
Over 25 major movies and T.V shows filmed in Ireland
Synopsis of all movies
Filming locations by county and attraction
Touring options
& More!
---
Read what our travelers had to say about their recent trip with us:

"Great assistance with a self directed tour via car. We had great communication before the tour that was very comforting and allowed us to get loads of questions answered beforehand." - Robert S.

"We loved the trip put together by Tenon Tours and will be using them again. Tenon Tours set our accommodations but what we did during he day was entirely up to us. We took the back roads and saw the real Ireland!" - Darren C.

"So helpful with any questions or concerns and they put together a wonderful trip [to N. Ireland and Scotland] for us. It was so easy to enjoy our trip because of the great locations of our hotels in the cities." - Alexis R.